Pakistan's first 24 hours online newspaper !

Refresh for Latest Update. Thursday, December 31, 1998 09:06(PST)
Everything Inside Millat WebSite Map

Special Section on U.S Strike Series
US sorry for bomb graffiti

The United States has condemned a sarcastic message about the Holy month of Ramadan scrawled on a bomb destined for Iraq....... Details
AMERICAN DUPLICITY AT ITS BEST!
Why US keeps Saddam Hussein alive?
US policy makers think with their heads and not from their hearts. They could have taken Saddam's life away any time since the Gulf War but they have chosen to keep him alive and in power. Opinion
* U.S. public gives Iraq attack mixed reviews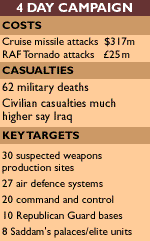 * U.S. temporarily closes embassies in Africa
* Reaction of People of Baghdad
* Russia Calls For U.N. Briefing On Iraqi Crisis
* Russia, China Denounce Attack
* World reaction to strikes
* U.S. CRUISE MISSILE - Overview
* US jeopardizing relations with Muslim world
* Attacks on Iraq: EU fragility exposed
* Raids leave Baghdad a city of contrasts

Tariq Aziz: "Civilian casualties are much, much higher than military casualties" Audio
Saudi Arabia will pay all the price of exaggerated figures of weapons used in attack on another Muslim Country.

'We are expecting the worst of Clinton because he has no humanitarian principles' Comments

Strikes expose policy of West Opinion Why We Didn't Remove Saddam By GEORGE BUSH AND BRENT SCOWCROFT

Editorials
Daily Jang Dec,18 1998

Daily Jang Dec,18 1998

Daily Nawa-i-Waqt Dec,18 1998 (Urdu) Attack On Iraq
Daily Nation (English) Dec,18 1998 Attack On Iraq
Clinton & U.K. Warns Libya Of Possible Tougher Sanctions
President Clinton Monday warned Libya that an offer to try two Pan Am 103 bombing suspects in the Netherlands was not negotiable and threatened tougher sanctions if they are not handed over by February.
Clinton said that if the proposal to try the suspects in the Netherlands fails, Gaddafi will have to bear the responsibility. ``Let me be absolutely clear to all of you, our policy is not to trust Mr. Gaddafi's claims, it is to test them,'' Clinton said. U.S. and British envoys told the U.N. Security Council Monday that their patience was running out. The Security Council is scheduled to review sanctions against Libya on Feb. 26. The current sanctions, first enacted in 1992 and reviewed every 120 days, include a ban on air travel, an arms embargo and a reduction in the level of diplomatic ties with Libya.
U.S. Forces To Stay in Persian Gulf
WASHINGTON (AP) - The United States will maintain continuous presence in the Persian Gulf to protect its interests in the region, said Marine Corps Gen. Anthony Zinni today
Aziz: Missiles 'killed UNSCOM'
Aziz said the raids meant the end of UNSCOM, the U.N. body in charge of dismantling and monitoring Iraq's weapons of mass destruction. "The moment America and Britain launched missiles against Iraq they killed UNSCOM," Aziz told the news conference, adding that the "aggressors" should be held responsible at the U.N. Security Council and that international sanctions should be lifted.
Media see personal motive in raids on Iraq
ISLAMABAD (AFP) December 18, 1998 - Pakistani newspapers condemned the US-led air strikes on Iraq Friday, linking the action to the impending impeachment of US President Bill Clinton.
"The timing of the attack may have something to do with the impeachment proceedings ... This classic ploy to override domestic troubles could be handy for the beleaguered US president," An English daily said.
The newspaper lashed out at the "duplicity" in the US approach to peace and security in the world.
"The message is loud and clear: the UN is a plaything, desirable for the US only if it serves its interests, and if it doesn't it can be dismissed as a non-entity," the paper said.
Another English daily described the attacks as a "last-minute resort" by Clinton to "extricate himself from the impeachment bind."
The Nation daily said it was not beyond the domestically embattled president to "use an external military assault to divert attention from his own impeachment trouble."
It also castigated the Muslim world, saying it "failed to respond meaningfully" to the "open aggression" or to come to the aid of Iraqi brethren "without necessarily endorsing Saddam Hussein."
Transcripts
U.S., Britain end air strikes in Iraq
Clinton announced the United States had ceased the military action known as Operation Desert Fox after four days of bombardment
Reactions

Muslim world to fight U.S. terrorism: Qazi

Egyptian leader tells Clinton to stop bombing Iraq

Syrians, Palestinians violently protest airstrikes in Iraq

Russia recalls envoys from US & UK
MOSCOW, Dec 18: Russia recalled its ambassadors to Washington and London for consultations on Friday in protest at US and British air strikes on Iraq and vowed to rethink its security strategy, including relations with NATO.

End air strikes say UK Muslims


Muslim leaders in the UK have called on the government to end the bombing of Baghdad during the holy month of Ramadan, which started at sunrise on Saturday.
As four British Tornados took off from their base in Kuwait for a third night of bombing sorties, over Iraq more than 400 anti-war protesters staged a noisy demonstration outside the gates of Downing Street.
The demonstrators, shepherded behind metal barriers by police, waved placards and shouted "Blair, Clinton - wanted for murder". Labour MP Tony Benn was among those in the crowd.

Union flag spat on
Members of the Al-Muhajiroun Muslim group spat on the British flag and tried to burn it.
British-born Abu Maryam, 30, said: "America and Britain are effectively at war, not just with Iraq but with all Muslims worldwide, by attacking Muslim civilians in Iraq". Two people were arrested for public order offences.In Glasgow another anti-war rally drew a crowd of around 300.
The demonstrators, many of them from the city's Muslim community, carried placards, one of which read "New Labour, new warmongers". However, despite the protests, there is no immediate end to the bombing raids in sight.
Speaking hours before the latest attacks were sanctioned, British Defence Secretary George Robertson said: "We are sensitive to the fact that the holy month of Ramadan is starting but we will make an assessment as to what needs to be done before concluding this operation".

'Saddam threatens Muslims'
He said Britain and the US had been in contact with their Arab allies in the Middle East.
"The whole purpose is to diminish a threat which exists to them and to the Muslim population in the Gulf and further afield," he said.
Both US President Bill Clinton and UK Prime Minister Tony Blair have underlined that they are "sensitive" to the significance of Ramadan but many Muslims in the western world consider these empty words.

Demonstrations grow
Protests against the air strikes have been growing around the world. During Saturday, protesters in the Syrian capital Damascus stoned both the US embassy and buildings used by the British Council. US guards at the embassy fired tear gas into the demonstration.
Abu Othman, a spokesman for the Islamic Cultural Centre in London, told BBC News Online: "To say they are sensitive is another lie by the President of the United States. They should call off this bombing."
He said British Muslims empathised with the plight of their Iraqi "brothers" and he added: "The regime is something else. There are bad regimes all over the world but it's not an excuse to kill civilians." Mr Othman said the continuation of the bombing during Ramadan would be an insult to the whole Muslim world

Stop Military Attacks on Iraq : U.S Organizations
The Reform Movement, American-Arab Anti-Discrimination Committee (ADC) and International Action Center (IAC) have strongly urged U.S. President Bill Clinton and British Prime Minister Tony Blair to immediately stop the politically motivated U.S. and British military attacks on Iraq, which killed and injured many Iraqi citizens and destroyed Iraqi civilian properties

(1) Clinton, Blair and Israeli Prime Minister Benjamin Netanyahu are trying to assassinate Iraqi President Saddam Hussein and overthrow the Iraqi government to install a puppet regime in Iraq that will serve as a client for U.S., British and Israeli corporate and military interests in the strategic and lucrative oil-rich Middle Eastern region.

(2) Clinton and Blair are fighting the Israeli war against Iraq, Arabs and Muslims with American and British taxpayers money by misusing the American and British military to achieve the anti-Iraq, anti-Arab and anti-Muslim goals of the Israeli regime.

(3) Clinton designed and timed the U.S. airstrikes against Iraq to obstruct, delay and derail the impeachment proceedings and win some pro-Israeli votes in the U.S. Congress to halt his impeachment by the U.S. House of Representatives. Because of his cunning tactics, the U.S. House has postponed its debate on Clinton's misdeeds and the impeachment vote.

(4) Clinton attacked Iraq to divert the attention of the U.S. Congress, the press and the people away from his sexual sins and alleged crimes.

U.S. Rep. Gerald Solomon (R-New York) said the only reason for the bombing on Iraq was to delay and affect the impeachment proceedings. "It is obvious that they're (the Clinton White House) doing everything they can to postpone the vote on this impeachment in order to try to get whatever kind of leverage they can get.

News by Events

US launches third wave of attacks

WASHINGTON, Dec 18: The United States and Britain launched a third wave of air strikes against Iraq on Friday and senior US officials said more cruise missiles had been fired so far than in the 1991 war.
Baghdad said it had shot down 77 of the 305 missiles fired against Iraq since the launch of the military campaign.
"Iraqi anti-aircraft fire destroyed 77 of the 305 missiles launched on Iraq since Wednesday," the armed forces general command said in a statement, the first since Operation Desert Fox began.
A western aid body said several hospitals had been hit in Baghdad since the bombardment began.
Catholic organization Caritas said in a communique released in Bonn on Friday that Iraq's largest hospital, the Saddam Hospital, was hit.
It said that while the St. Raphaels hospital in the capital was not hit there was serious damage to the residential district around it, home to many of Baghdad's Christians.
The new wave of attacks came as President Bill Clinton faced impeachment proceedings in the House of Representatives. US Officials insisted this would have no impact upon the offensive against Baghdad, designed to punish Iraqi President Saddam Hussein's defiance of UN arms inspectors.
Cohen said some US strikes targeted Iraq's important Basra oil refinery, in what he said was an attempt to shut down oil smuggling designed to evade UN sanctions.
The chairman of the Joint Chiefs of Staff, Gen Henry Shelton, told the same news conference the total number of sea and air-launched cruise missiles now exceeded the number expended during the Gulf war. A total of 289 cruise missiles were fired during that war.
Shelton said more than 75 targets had been attacked and that the amount of damage caused was varied.
"We realize you can't destroy it all," he told a news briefing, adding that some targets had both military and civilian uses, such as facilities that can make both drugs and biological weapons.
"You can't destroy it but you can bring it down," he said.
Saddam was defiant in his response to the air attacks and called on Arabs to resist what he called the agents of Satan.
"By God, we will not compromise," Saddam said in a taped television address broadcast by Qatar television station al-Jazeera shortly before Washington announced another round of air strikes had begun.-Reuter/AFP

Blasts over Baghdad during second night of attack

BAGHDAD(Dec 18 PST) U.S. and British bombers unleashed more missiles on Baghdad for a second straight night
Missiles hit Iran
Stray U.S Missiles from the allied attack on Iraq crashed into a southwestern Iranian border city early Thursday. The official IRNA news agency quoted an informed source in the port of Khorramshahr as saying the missile touched down near the city's central mosque. INRA said the missile shattered nearby windows and damaged property within a 200- meter (220-yard radius.
"The source told IRNA that the missile had apparently targeted one of the Iraqi installations in the city of Basra, but instead hit Khorramshahr," IRNA said. No injuries were reported, the agency said. The blast spread panic in the city, which had been virtually destroyed during the 1980-1988 Iran-Iraq war.
U.S. closes embassies
Meanwhile, in Africa, the United States closed 40 embassies temporarily as a precaution against possible terrorism because of the attacks on Iraq. Only three diplomatic posts remained open. Three embassies already had been closed.
The State Department's Bureau of African Affairs sent a cable to other posts on Wednesday ordering a suspension of official business, officials told Reuters.
Some officials said the bureau is especially sensitive to the potential for threats since the August bombings of U.S. embassies in Kenya and Tanzania, which killed more than 250 people.
US LAUNCHES STRIKES ON IRAQ
Hundreds of missiles rain down on Baghdad

BAGHDAD, Dec 17: The United States and Britain unleashed the heaviest missile attack on Iraq since the Gulf War in 1991. At least five people died and 30 others were wounded, according to first reports from a hospital in Baghdad.

Hundreds of Tomahawk cruise missiles pounded Iraqi targets as Operation Desert Fox was launched around 21:50 GMT on Wednesday, lighting up the Baghdad skyline.

UN Security Council members China and Russia condemned the air strikes and called for military action to be halted immediately. Iraq also urged an immediate cessation.

More US forces have been ordered to the Gulf including a second aircraft carrier, 10 F-117 fighters, an air expeditionary force with 36 fighter aircraft, and Patriot missile defence batteries and crews, US officials said. Clinton is successful: -Impeachment debate tentatively delayed

Dec 17 (PST) House Speaker-elect Bob Livingston and House Democratic leader Dick Gephardt tentatively agreed Wednesday to delay the House debate on whether to impeach President Bill Clinton. Sources at a House Republican caucus Wednesday evening told CNN the debate could begin either Saturday or Monday. Livingston and Gephardt were presenting the plan to delay the debate and vote at their respective caucuses Wednesday evening. The two leaders agreed to delay the debate and vote because of the U.S. military strikes on Iraq, although Republican sources said Livingston was meeting some resistance.

U.S. forces in Gulf U.S. forces include 201 aircraft and 22 warships, including the aircraft carrier Enterprise. Eight other vessels -- cruisers and destroyers equipped with Tomahawk cruise missiles -- are positioned in the northern part of the Gulf, putting them within striking distance of Iraq. The United States also has 15 B-52 bombers on the Indian Ocean island of Diego Garcia. Each plane is capable of carrying up to 20 air-launched cruise missiles.
In addition to the 201 U.S. warplanes and support aircraft, including those on the Enterprise and at bases in Kuwait, Saudi Arabia and other moderate Gulf states, the aircraft carrier Carl Vinson is scheduled to arrive in the Gulf within days to replace the Enterprise before Christmas. If there is a military strike, however, the Enterprise might remain in the area, instead of moving to the Mediterranean Sea as scheduled.
Pentagon spokesman Ken Bacon told reporters Tuesday that the United States had 24,100 military personnel in the Gulf region. Most of them are sailors based on warships and Air Force troops at bases ashore, although there were several thousand Army troops conducting routine military maneuvers in Kuwait.
Britain, a strong supporter of the U.S. position on Iraq, has several warships and at least a dozen Tornado attack jets based in the Gulf.

Sen. Lott questions timing of airstrikes on Iraq
Senate Majority Leader Trent Lott and other congressional Republicans raised immediate questions Wednesday about the timing of airstrikes against Iraq, on the eve of a scheduled House debate on impeachment. "I cannot support this military action in the Persian Gulf at this time," Lott said in a written statement. "Both the timing and the policy are subject to question."
Clinton told Congress Wednesday afternoon he had ordered a "substantial military strike against Iraq," the White House announced. Clinton planned to address the nation early Wednesday evening. Lott said he could not support putting U.S. troops at risk without a more aggressive policy that would lead to real change in Iraq.
One member of the House went further, accusing Clinton of timing the attack to delay the impeachment vote. An angry Rep. Gerald Solomon (R-New York) said the only reason for the bombing was to affect the impeachment proceedings.
"It is obvious that they're (the Clinton White House) doing everything they can to postpone the vote on this impeachment in order to try to get whatever kind of leverage they can, and the American people ought to be as outraged as I am about it," Solomon declared.
Asked if he was accusing Clinton of playing with American lives for political expediency, Solomon said, "Whether he knows it or not, that's exactly what he's doing. When you put our troops in the air or on the ground, you are risking their lives. This president ought to know better. I don't know if he does or not, because he's so unpredictable."
Solomon said Clinton should have briefed more members of Congress and delayed the attack until early next week. "It would still be spontaneous," Solomon said. "He could still launch the attack, but it would not have been political the way it is today."
A Democratic member of Congress, Rep. Sam Gejdenson of Connecticut, ripped Solomon for his comments. "Gerry Solomon's spent a career here making outrageous statements, but as an ex-Marine, he ought to know better," Gejdenson said. "That was an outrageous, outrageous statement." Gejdenson said the nation cannot tie a president's hands based on what's going on Capitol Hill.
"Think of the message," Gejdenson said. "If we tell every country out there that might want to do harm to America's interests, that every time there's a political squabble in Washington, the presidency has to be frozen. That's outrageous." House leaders were ready to postpone Thursday's impeachment proceedings because of the military action. CNN has learned that Speaker-elect Bob Livingston and House Democratic leader Dick Gephardt tentatively have agreed to delay the debate until Monday. "I think it would be awkward to have an impeachment vote during a bombing in Iraq," Judiciary Committee Chairman Henry Hyde told The Associated Press as he emerged from a GOP leaders' meeting Wednesday morning to discuss the issue. Hyde said while there was no final decision, there appeared to be consensus that the House should suspend its impeachment proceedings during any military operation. "I think the speaker then would call for a recess and confer with the minority leader," Hyde said.
Earlier in the day, Livingston refused to discuss the possible effect of a military action on the impeachment proceedings. "I don't want to speculate on that," Livingston said. Them coordinate U.S.-British attack on Iraq came after new tensions flared over U.N. weapons inspections. Overnight, the U.N. inspectors were evacuated from Iraq to Bahrain, after chief U.N. weapons inspector Richard Butler reported that Iraq had not met promises made a month ago to fully cooperate with monitors and had imposed new restrictions on their work. Sources said eight warships equipped with cruise missiles had moved to the northern part of the Persian Gulf where they were within striking distance of Baghdad. The 120 inspectors were given pre-dawn orders to evacuate Baghdad and reached Bahrain a short time later. In addition, more than 200 U.N. humanitarian workers were told to clear out. Only a few essential employees remained at U.N. headquarters. The House of Representatives is considering four articles of impeachment, charging Clinton with perjury, obstruction of justice and abuse of power in the Monica Lewinsky affair. Clinton as admitted the affair, but denied he committed perjury
Urdu News

Send your comments on Strike at iraq98@millat.com
Poll Survey
I condemn U.S Action
Everything Inside Millat WebSite Map Return to Millat Online Main Page