EVENTS - PM SPEECH 11/06/98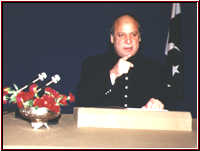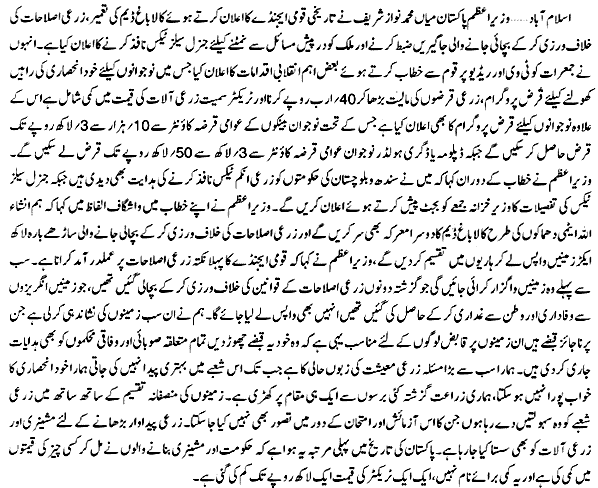 Nawaz Sharif address to the Nation Highlights

Welcome to our LIVE coverage of Prime Minister Nawaz Sharif's address to the nation, which started at 20:00 PST (15:00 GMT). We are updating this page every few minutes. Please press your Reload/Refresh button to see the latest update of this page. Since this coverage is being done live, we apologize in advance for any errors or omissions.
PLEASE TAKE FEW SECONDS & SEND YOUR FEED BACK ON LIVE COVERAGE
WE HAVE DECIDED TO BUILD KALABAGH DAM
NAWAZ SHARIF IS PAYING ALL HIS LOANS
LOANS FOR YOUTH. NAWAZ LEAVES PM HOUSE
Pakistan has become one of the 7 nuclear powers of the world.
We are at a crossroads. You decided that we will not bow down to the Indian tests. I give you my 'mubarikbad'.
Today I will talk about the agenda for self-reliance.
We cannot be self-reliant until we address the major sector of our economy. That is agriculture.
Agriculture is therefore the first item of the new agenda.
1,250,000 acres are in this category. The British gave much of this land to traitors and collaborators.
The time has come that those who got such lands to leave them.
We want to distribute this land to the real farmers.
I want to appeal to all of you to stop all corruption in agriculture.
Rs 100,000 and more has been reduced the price of each tractor.
I thank overseas Pakistanis for their support during this difficult time.
I support a free market and was not in favor of the restrictions I had placed on the foreign currency accounts.
We will do other changes and we will not have to de-value.
We are short of foreign exchange. I look to our overseas Pakistanis to come to our help in this time of need. We cannot rely on anybody else.
I know that when we settled the score with India all of you supported me, specially those outside Pakistan.
I announce special incentives for overseas Pakistanis to import goods into Pakistan as long as they remit through the banks and not through 'hundi'.
To overseas Pakistani's please do not buy things that are not made in Pakistan when you return to Pakistan.
By giving only $10 a month you, overseas Pakistanis can educate a child in your beloved country.
A new loan program for educated or talented youth is being arranged.
We can create a revolution using the talent of our youth. I am convinced that they will be the backbone of our new economy.
I appeal to our youth to start new export oriented businesses. The nation is relying on you.
We are Muslims. Our history is full of struggle. Sanctions were also placed on our Prophet 1400 years ago.
We have to pay the price for the tests we conducted on May 28.
I am announcing that I will leave the PM's House. The Governor's House will also be vacated, and sold, and the money will be used for the development of the nation.
An example 1400 Canals ( 70,000 sq meters) houses only 7 residences of 'high officials'.
From this we can change the shape of the city by selling these 7 residences.
We have reduced the number national holidays from 20 to 13.
We will also reduce the strength of our foreign missions.
We will also not buy any new cars from now on.
Only important foreign trips will be allowed, neither will there be functions in expensive hotels.
The Cabinet will not draw any salaries from the government.
We spend Rs8 Billion on Tea. Please save that for me.
Tax Evasion is also a major problem. But how can the tax-payers pay tax when they have to pay the tax collection officials?
We have decided to impose a General Sales Tax (GST). Details tomorrow during the budget.
We have decided to impose agricultural tax.
I will severely punish loan defaulters. They have 4 weeks to clear their dues.
I have to clarify something. The former Prime Minister Benazir Bhutto has subjected my family's Ittefaq Group to immense pressure.
My family has decided to surrender our assets so that these unjust charges and loans against us can be cleared.


I am clearing all these loans.
I have taken the first step.
Our agriculture sector will have a huge impact from these new policies.
This new national agenda cannot be fulfilled till we do not get rid of the illegal weapons that scourge our nation.
I appeal to our traders and the people of Pakistan not avoid smuggled goods.
The thieves of electricity and water are exactly that thieves. They will be punished and made an example.
Another major problem for us is crime. My aim is to provide justice to every single citizen of Pakistan.
This is a major part of this new national agenda.
I told you that I will end the status quo. If I have to change the laws or the Constitution I will do it.
The new way the new agenda is of self-reliance. The people who will bear the bulk of the sacrifice are those who have benefited from this country for 50 years.


The decision we made on May 28 stands vindicated.
I am proud to announce that in spite of this challenge (of sanctions) we have decided to proceed with the Kalabagh Dam.
Fate favors the brave.
We are an atomic power. Now we have to become an economic power.
Pakistan Paindabad.

---
LIVE
Please Refresh Again for Latest
Live Highlights
8:00 Tilawat Quran Pak
(PM Starts Speech)
8:12 Congratulations to Pak Nation on Nuclear
Today we will discuss self-reliance & economic stability issues
Our major problem is Agriculture Sector revival
We will distribute lands to Haris
400 million for Agri Sector
Reduced Tractors Prices from Rs 1 Lakh
Sales tax abolished on Agri equipment
Special Offers to Overseas Pakistanis

We freeze $ account on national interest. It saved us against economic crises.
Overseas should donate in self reliance funds for reserve situation
25000 Thousands Plots for Overseas Pakistanis
Those who send 1 Lakh US $ send to Pakistan , will save 2 Lakh duties
Purchase Local Things
Send Money Though Banks
New100 Page Passport, No renewal after six month
Send 1000 Dollars to your relatives in Pakistan
Import foreign items before 30th June.

EDUCATION
All children in school after 5 years
One person support one child education
Primary Education Must
Youth Employment
I trust youth by announcing loans for them.
Awami Karza Account for youth in Banks (Rs10,000 to 300,000)
Experienced Technical Degree holders will get loan (Rs300,000 to 50,000,000)
Return loan with honesty.
I appeal Chamber & Commerce Industry ppl to guide youth in utilizing money
AUSTERITY
We will face all sanctions boldly
We will sacrifice. I left PM Secretariat. It will be sold.
I will also leave PM House. It will be state guest house.
All state guest houses will be sold. Money will be used for revival of economy.

EDUCATION
Women University in Rawalpindi
Govt Sector
Reduced All Govt Expenditures By 50%
All purchases are banned in Govt & semi govt.
50% cut on stationary
Foreign Visit are banned
No Govt Function in Hotels
Get rid of Tea Habbit. 8 Arab Rs annually spent on import. At least reduce to 50%
Reduce Cooking oil usage
Pay Taxes
We have impose GST
Agri Tax will be levied at same rate in Pubjab and other provinces
Non Tax payers will be sent to jail.
Four Weeks deadlines have been given to defaulters to adjust loans with banks.
Investment
No chance in investment policy
Ittefaq foundry was nationalized by Bhutto in 70's
Benazir held Jonathan Ship for One Year. Asked banks to nominate Nawaz as defaulter
We are give our assets to Banks. I am paying all contradictory loans by selling these assets.
Ittefaq's 10,000 employees were tried to unemployed by BB

We Capture all Illegal Weapons
Smuggling
Stop trade of smuggled items
Appeal to traders of not keeping smuggled items.
Electricricity & Gas Theft will be dealth by iron hand.
CLOSED AT 9.05 PM
TOMORROW'S EVENT LIVE COVERAGE OF BUDGET 98
PLEASE SEND YOUR FEED BACK ON LIVE COVERAGE NOW